Upgrading your dishwasher can save significantly on water, energy and money.  If you don't have a dishwasher now, adding one can save up to 5,000 gallons of water per year!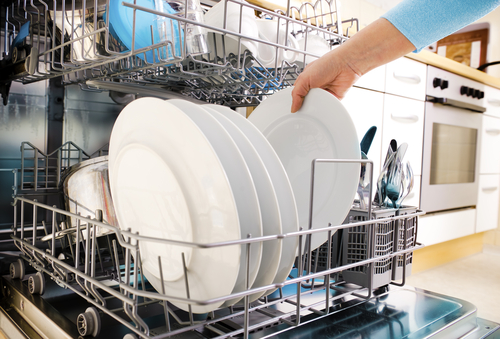 Newer dishwasher models have made big advances in water and energy efficiency.  If you currently have an older or inefficient model, upgrading your dishwasher can save water, energy, money and time—as much as 1,000 gallons of water and $50 on your electricity bill per year!  New models also include advanced technology that allows you to avoid pre-rinsing. If your current model requires pre-rinsing, this alone could save you up to 1,000 gallons of water per year on an upgrade.  This action is best done when your current dishwasher is at the end of its useful life, possibly sooner if it was made before 1994.
Don't have a dishwasher?  Consider installing one—adding one to your home could save you up to 5,000 gallons of water per year!  Read on to find out when you should consider upgrading and what features to look for.
Potential savings.  If your dishwasher is pre-1994 and you run your dishwasher twice a week, upgrading to a new Energy Star dishwasher can save up to 1,000 gallons of water per year and up to $50 per year on your electricity bill.  If your current dishwasher is 1995 or newer but is not Energy Star rated, you can still save up to 100 gallons per year and $20 a year on your electricity bill by upgrading.  
Cost and payback time.  Purchasing a new dishwasher is an investment.  Most models are priced from $300-$800 or more. If your current dishwasher is pre-1994, the annual savings will be significant.  Depending on the model you choose, it may take 7-10 years, or longer, to cover the cost of the upgrade.  Generally, the best time to upgrade is when your dishwasher is in need of replacement—sooner if it was made before 1994.  The lifetime of an average dishwasher is 10-12 years.
If you are currently hand washing dishes or even just pre-rinsing with hot water, you will likely see even greater annual savings.  However, it will still likely take 5-7 years or more to recoup the initial investment.  Yet, when you factor in the time savings and convenience, adding a dishwasher can't be beat.
2
Chose an energy efficient model
 When upgrading, look for a model that is Energy Star rated and does not require pre-rinsing.  These two factors will result in significant savings on water, energy, and your monthly bills.  Energy Star is a minimum standard and efficiencies can vary.  Check the label on the dishwasher for the most energy efficient Energy Star machine.
Capacity.  Another factor to consider is capacity.  Dishwashers come in different sizes with varying capacities.  Ideally, you want to size your dishwasher so it won't take too many days to fill the machine.  Dishes that sit for several days end up getting dry and crusty and are harder to clean.
Soil sensor.  One important feature to look for is a soil sensor.  The soil sensor will adjust the cycle's time and water use to the soil level, improving efficiency.  An Energy Star model with a soil sensor does not need to be expensive.  You can find a basic Energy Star model in the $300 range that will clean as well as the higher priced more feature heavy models (just possibly not as quietly).  Look for an energy efficient model that meets your family's needs and your budget.  For more information on features and models, check out this Consumer Reports buying guide.
3
Install & start saving water!
Installing your new dishwasher.  Depending on your current dishwasher set up and your new model, installing your new dishwasher could either be a relatively simple or a complicated task.  If you are comfortable with home improvement projects, this might be for you.  However, installation is generally offered for an additional fee with delivery which is easy and a great way to make sure the install meets all local codes.
Recycle your old dishwasher.  Your dishwasher is made from steel and aluminum which can be recycled.  Most retailers will offer a recycling service and take away your dishwasher when they install your new one.  There may be a fee for this additional service.  Be sure to confirm that the appliances are recycled or refurbished and reused—not disposed of at a landfill.  If you are not sure it is being recycled, check the website of your city or county's municipal waste service.  Many have recycling programs that accept large appliances and may even offer a curbside pickup option.  Or visit the Recyclenation.com website for a list of local recycling centers that accept appliances.
Use it wisely!  The most efficient dishwasher does not help if you don't use your dishwasher wisely!  Learn more on the Fill Dishwasher action.