Did you know we have all the technology and solutions we need to address climate change today?  We do!  And you can help - in fact, you can make a big difference and together we can make a huge impact!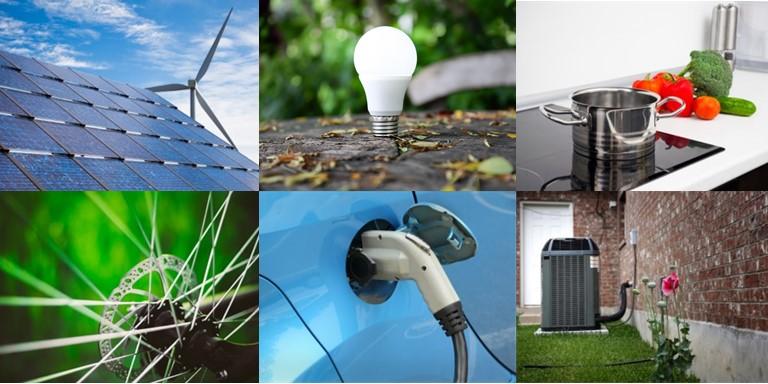 We Have Solutions!  We have the technology and solutions today to address climate change and create a safe and healthy future.  The best news is these solutions are affordable, save money, improve our health and create local jobs – they will make our lives better today.  It is much easier than you think to make an impact!
The primary cause of climate change in the U.S. is burning fossil fuels like coal, oil and natural gas for energy.  For example: burning coal or natural gas to create electricity, using natural gas or fuel oil to heat our homes and using gasoline to power our cars.  Other main causes of climate change include agriculture – how and where we grow food and what we eat, and our waste stream – what we throw away. (Learn more on the Climate 101 actions)
We have affordable alternatives to all these causes of climate change, and you can help!  In fact, 40% of U.S. greenhouse gas emissions come from these 5 basic household activities we do every day – using electricity, heating our homes, our transportation (both land and air), our food choices and our garbage.  There are now affordable options for all 5 of these basic household activites that also save money, create cleaner, healthier air and create local jobs.
Most households can lower their impact in these 5 areas 50-70% or more and save money!  We have no time to wait – we need to make big progress on climate solutions in the next 10 years, or our children in school today will face serious impacts in their lifetime.  We can do this! Together we can make a big impact and create a safe, and healthy future and a better today.
Read below to learn more about the Big 5 Solutions and how you can help!  (mark this action done and get 1,000 points for reading!)
1
Make Our Electricity Renewable
Prices for renewable energy have dropped drastically in the last 10 years and will continue to drop.  In fact, renewable energy is now the same cost or cheaper than other sources of electricity in many places in the U.S. and will be cheaper nearly everywhere soon.  This will lower energy costs for families and businesses. Batteries and other technologies are also developing rapidly and will provide a low-cost way to back up the energy from solar panels or wind turbines and save it for when we need it – when the sun is not shining, and the wind is not blowing.  The best part – clean, renewable energy does not create air pollution, so we will all benefit from cleaner, healthier air.
Home Action:  Choose Green Electricity (Easy action! – join a green electricity program from your electric utility or other company providing green electricity). 
OR Install Solar Panels
Impact:  10-20% average reduction in basic household impact
Cost/Savings:  Green Electricity Average Cost = $10/month, Solar Average Savings = $10-$100/month
2
Use Clean, Renewable Electricity to Power our Transportation
When we power our cars and trucks (and buses and trains), with clean, renewable electricity, we can also make our transportation fossil fuel and emission free!  Transportation is usually the largest source of climate impact in a household.  Switching to transportation powered by renewable energy has a huge impact!  
The best part, electric cars create zero air pollution.  Imagine if everyone drove electric cars running on clean, renewable electricity – no air pollution!  Breathe in the clean, fresh air…
If alternative transportation is an option, this is another great way to lower your transportation impact.  Taking the train or bus can lower your impact up to 80% or more. If you have a choice, choose electric powered alternative transportation like the subway or electric buses for the lowest impact.  Of course, biking and walking are 100% fossil fuel free options!  And great for your health.
Home Action:  Buy or Lease an Electric Vehicle, Take the Train or Subway, Take the Bus, Bike, Walk, Skateboard or Unicycle
Impact:  40-50%
Savings:  Average $1,000+/year per car for Electric Vehicles, $100+/year for Train/Bus, $500+ for Bike/Walk
There is one form of transportation we don't have a good alternative for yet – air travel.  A lot of bright minds are working on a solution now! However, in the interim, until we have a solution, reducing air travel as much as possible is the best option.  If you need to fly, you can offset your impact. Learn more in the Offset Air Travel action.
Home Action:  Reduce Air Travel, Offset Air Travel
Impact:  10%
Cost/Savings:  Reduce Air Travel Savings average $200 for every 1,000 miles, Offset Air Travel cost around $4 for every 1,000 miles.
3
Use Clean, Renewable Electricity to Heat our Homes
If we heat our homes and businesses with clean, renewable electricity, we can make them fossil fuel and emission free!  Many homes currently use natural gas, propane or fuel oil to heat their homes and water, and sometimes for cooking and clothes drying as well.
Just bought a new water heater?  No problem!  For all Solutions Actions, do them when you are ready!  Schedule this action on your list for 5 or 10 years out when your water heater is ready for a replacement.  
Home Action:  Install Electric Heat Pump Water Heater, Install Electric Heat Pump Heater, Upgrade Clothes Dryer (to electric), Upgrade Oven/Stove (to electric)
If you rent, talk to your landlord about efficient electric heating options – and take credit if they make the change!
Impact:  10-20%
Cost/Savings:  ranges from $30-$100/month savings to $10-20/month cost depending on your current appliances and the upgrade.
Being energy efficient does not mean restrictions like setting our thermostat to 50 degrees – it means using reasonable, comfortable settings and installing a smart thermostat to make sure the energy is only on when we need it.  You don't need the heater on high when you're off at work!
The best part – being energy smart saves money!  Many energy efficiency actions pay for themselves after just a few months or years and then lower home energy costs significantly over time.  There are also more financing options becoming available to help with energy efficiency upgrades.  Check out the action pages for more information.
Home Action:  All the Actions in the Energy Efficiency category plus Combine Trips, Carpool, Drive Wisely & Telecommute
Impact:  10-30% (These actions reduce your impact in some of the other areas above.)
Savings:  Average $20-$150/month ($250-$1,500/year) depending on the actions taken and where you live.
5
Rethink Our Food and Reduce Garbage
Two additional sources of significant impact on climate change include agriculture – how we grow food and what we eat, and our waste stream – what we throw away.
Home Action:  Eat Lower Down the Carbon Chain, Buy Local, Buy Organic, Plant Trees
Impact:  10-15%
Savings:  $100-$200+/year
Home Action:  Reduce & Reuse, Recycle, Compost
Impact:  5%
Savings:  $0-$30/month (depending on your garbage rates and options)
The Home Actions in the 5 Big Solutions above cover all of our direct impact on climate change from our daily activities.  Most people can make a plan and lower their impact 50-100%!  Add actions to your list and see how low you can go!  And after taking actions, celebrate!  You are helping to create a safer, healthier future and a better today.
These Home Actions cover your direct impact on emissions - the impact from the 5 basic household activities of electricity use, home heating, transportation, food choices and garbage.  There is also an impact from the things we purchase and the services we use.  For example, when you buy a new pair of shoes or go to get a haircut, the energy and resources used to make the shoes or the energy to power the electricity in the hair salon can also create emissions.  Since we can't directly control this, the best way to reduce your impact is to vote with your dollar and choose products and services that have a lower impact.  However, it is often difficult to know which ones to choose.  Green certification or other rating information can be hard to find, but as it becomes available, we will provide the information on our site.  You can also use your voice and your vote to encourage your elected officials to consider options for policies to lower business emissions.