Host a Virtual Party, Start a Team
Invite a few friends or neighbors to hear about the challenge and start a team!  It is much more fun to work together.  Share ideas and resources and help each other take actions!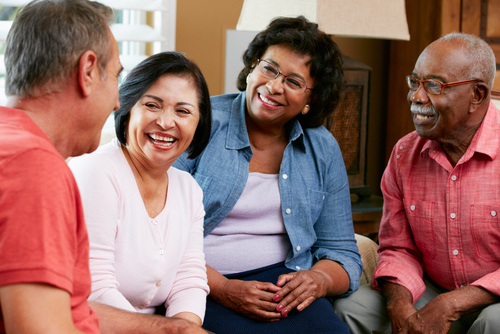 Working together, we can make a big impact on creating a safer and healthier future and also improve our communities today.  And working together is fun!  Hosting a house or virtual party with some neighbors or friends is a great way to let others know about the challenge and create a team!
Starting a team is easy—just invite folks, check out the website together and create a team.  Everyone on the team can choose actions that are right for them and contribute to the team's success.  Share ideas and resources with each other and help each other take actions!  You can track progress on your Team page.  Then stay in touch, work together and celebrate your success! You may meet new neighbors and learn new tips from one another.  
Starting a team is also a great way to expand your impact.  Every time someone you connected joins the challenge and takes action, you have made a difference!  Read on for tips on how to start a team.
1
Invite your neighbors or friends & explore the challenge site
Invite friends or neighbors.  First, find an hour or two that works for you to host a small gathering and invite some friends or neighbors.  Teams are typically made up of 5-8 households (with a max of 10).  So think about 5-7 friends or neighbors to invite.  This is a great chance to get to know the neighbors on your block better. First, introduce yourself and then ask if they would like to come over or join a video call one evening and talk about ways we can build a healthier, safer community.  You can mention the program if you would like.  Most folks will have a positive response, even if they can't make it and will likely appreciate that you asked. After inviting folks, it's helpful to send an email confirmation and reminder to everyone planning to attend.


Create an account and explore the site.  Before your party, try out the site yourself so you are familiar with how it works.  You can also join a Team Leader webinar and learn more about the program and tips for starting a team.  Check out the resources section for information on upcoming Team Leader webinars.
2
Host the meeting and make it fun
Include snacks.  Snacks are recommended.  You can make it a potluck, a wine and cheese event, or whatever sounds good to you.  For virtual events, skip this step!
Do introductions.  Introductions are important, even if you know each other!  To start your party off, take time to introduce yourself and let them know why you invited them over, and why this is important to you.  Then have everyone introduce themselves and say why they came, or share one concern they have about climate or sustainability and our future.  This sharing is an important part of creating a strong team.
Check out the challenge.  Introduce the challenge briefly - what is it?  Talk about solutions and the goals of reducing our impact and creating a safer and healthier future (Learn About Solutions action).  Take a look at the actions and give everyone a chance to share about actions they have already completed and what action they might want to do.  Share ideas and resources on actions.  For example, if one family is considering buying an electric car and you have just purchased one, share your experiences with the process and what you learned.  You might find that you all learn a few things that will really help you complete actions!
Creating a team helps you to work together, encourage each other, share ideas and resources, and celebrate successes!  Create your team during your house party while everyone is together.  Here's how to get started:
Name your team!  The first step to creating a team is to decide on a name.  Have fun with it!
Create your team.  As soon as you have a name, decide on a Team Leader.  This is often the host (you!), but can be someone else in the group.  The Team Leader can then log onto the site and create your team. This is very easy and only takes a minute.  All you need is an account and a Team name.
Invite Team Members.  Ask everyone to sign up and create an account on their phone or laptops during your party (if possible) and then join the team.  Be sure to get all team members email addresses for follow up!
Next Steps.  Tell everyone at the party that the next steps for team members after the party is to complete their account setup and choose actions.  Complete the Home Energy Profile, then explore actions and choose some actions to take!
Plan a follow-up meeting.  Before everyone leaves, find a date to get together again in 3-4 weeks to follow up.  Decide on a host, location, and time.  If you don't want to host another house party, you can meet at a restaurant as well.  Pick one where you will be able to all sit together as a group and talk easily (avoid loud restaurants!).
4
Keep in touch for a successful team
Keeping in touch is the most important part of a successful team!  Here are tips for team leaders:
Follow up from your party.  After your party, send everyone an email to thank them for attending and remind them to complete their account set up.  Remember to include the link to the site and remind them of the details (date and time) for the follow-up party.  Be sure to ask them to let you know if they have any trouble using the site.
Send a reminder.  The week before your follow-up party, send out an email reminder for your follow-up party.  Remind people of anything they need to bring and encourage them to complete their account set up before the party.
Follow-up meeting.  Get together again 3-4 weeks after your first party and see how it's going!  Share and talk about what actions you are planning, what information was interesting or surprising and if you had any challenges using the site.  Share ideas and resources on actions and help each other succeed!  If you need help on anything, fill out the contact form with your questions.
Ongoing parties.  At your follow-up party, decide on a time to get together on an ongoing basis to check in, share ideas and resources, and celebrate success!  A good guide is to try to meet at least 2 times per year, but once a quarter or even once a month works great as well.  Make these events fun!  Do a themed potluck like plant-based, local or organic food, or show a movie.  Have a team member share more information on an action they completed or invite a local expert to come and talk about an action.  Or make it an active event and take a hike together or volunteer together for a creek restoration.  Then go out to eat afterward and share how it's going on the challenge.  Discuss at your party and decide together on ideas for upcoming meetings.  There are many possibilities to make these parties fun and positive experiences together.  Most importantly, celebrate your success!
Keep in touch through the site.  In between parties, keep in touch through your team page on the site.  Post a message to team members, see what actions team members have completed, and share ideas and resources.  Check your team standings to see how you rank with other teams in your area!
Team Leader resources.  Look for additional resource links on the Teams Page for Team Leaders (coming soon!).  We will be here to support you as you lead your team. Share with us through the contact form how it's going and any suggestions for running successful teams!